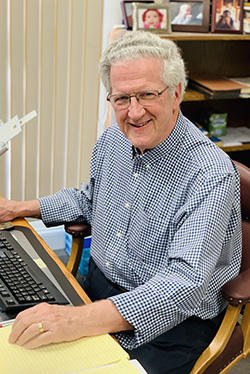 Dan founded Connolly Law Offices (now Connolly & Rooney) in 1993 as a solo practice, concentrating in the areas of tax, trust, estate and business family succession planning for high net-worth clients. As the senior member of the firm, Dan continues to provide a full range of legal counsel to families, business entrepreneurs and non-profit organizations. He advises clients in business succession planning, particularly, purchasing and selling closely-held organizations, start-ups, family succession, tax and corporate restructuring. As a trust and estates lawyer, Dan represents his clients to thoughtfully create an estate plan tailored to their particular needs. With a mind for numbers, Dan also provides income, business and fiduciary tax advice and planning for clients and as a consultant to other legal practitioners who seek specialized assistance for their clients.
Dan began his legal career after he joined the Upper Valley law firm of Stebbins & Bradley, and then took a position with Sulloway, Hollis & Soden. Dan took a hiatus from the legal world to pursue an opportunity with Aavid Engineering, Inc. as a Senior Vice President for Administration and later Chief Financial Officer from 1985 until the business was sold in 1993. Dan returned to the practice of law with  Connolly Law Offices (originally in Concord, and since 2002, in New London and of counsel for the law firm of Cooper & Wade in West Lebanon, NH).
During his career, Dan has served as a member of the Board of Governors of the New Hampshire Bar Association, two terms on the Board of Examiners, as well as on numerous Bar Association Committees, including the Continuing Legal Education, Unauthorized Practice of Law, and the Law Related Education. Over the years he has chaired and participated in numerous Continuing Legal Education programs as a presenter and committee member.
Dan received his BA from Boston College in 1968 and his JD from Cornell University School of Law in 1972. Dan also served as the assistant sports information director at Dartmouth College, which began his life-long association with New Hampshire. Dan resides in Bow, N.H. with his wife, Jennifer and his cocker spaniel, Molly. Dan has three adult children and several grandchildren.