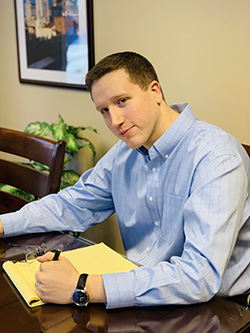 Tim joined Connolly Law Offices at the beginning of 2019 after receiving his J.D. from the University of New Hampshire School of Law (formerly Franklin Pierce Law Center) and being admitted to the New Hampshire Bar in 2018. Tim holds a Bachelor of Science in Criminal Justice from Buffalo (NY) State College, graduating summa cum laude, and was a Presidential Scholarship recipient at UNH Law.
While attending law school, he was involved in several internships. He first interned with the Merrimack County Attorney's Office after his first year. He spent the following summer working on foreclosure and consumer protection law issues. Tim's affinity for estate planning began during his last semester at law school when it was the focus of his third internship. He continues to focus on estate and trust planning and administration, while expanding his practice to include business formation, development, and various exit scenarios for family businesses.
Tim is a member of the Trust & Estate Section and Corporation, Banking, & Business Law Section of the New Hampshire Bar Association. He lives in the Lake Sunapee region with his family. He enjoys skiing, camping, and fishing.